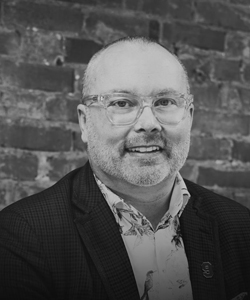 JAY HARALSON
Event Chair
Jay is a Director and Team Lead at Scotia Wealth Management and the Board Chair for Gordie Howe CARES.
Jay believes that caregivers are the true unsung heros in the Alzheimer's Dementia journey, and by supporting and helping them navigate a confusing landscape at an overwhelming time is why he is morst passionate about the work that Gordie Howe CARES does and is involved in.
Jay has been involved in the Pro-Am tournament since it's early inception in 2011 and has been the Committee and Event Chair for 6 years this year.
Jay has strong ties to the hockey community and a passion for golf, fishing, surfing and snowboarding.
---
CHRIS CARLSEN
Chris was raised in Saskatoon, SK, which meant hockey was always an important and fun part of every winter season including making long lasting friendships with teammates. After becoming a Chemical Engineer at the University of Saskatchewan in 2001, Chris moved to Alberta to work in the ever challenging, innovative and rewarding energy industry. Chris is currently the Vice President of Engineering at Birchcliff Energy Ltd. in Calgary.
Chris and his wife, Jill have three young children Sasha, Tate and Vivian. The ability to raise awareness and funds to fight Alzheimer's and related dementia's and to make a difference is important to Chris and his family. Several years ago, at an unusually young age, his mother in-law was diagnosed with a form of Frontotemporal Dementia, which has been devastating for the family.
Chris has been involved in the Pro-Am Tournament for the last three years as captain of the Birchcliff Energy Team. He was honoured to join the committee during this past summer and looks forward to contributing to a great cause.
---
BRETT CHORNEY
Brett Chorney is a petroleum engineer that attained his B. Sc. from the University of Alberta. After growing up in the Peace Country of Northern Alberta, he first moved to Calgary to join Gulf Canada Resources Limited in 1994. He is currently an Exploitation Engineering Manager at Canadian Natural Resources Limited.
Brett and his wife, Catriona, have 3 boys, Nolan, Derek, and Thorin. Hockey is a big focus of life in the Chorney household in the winter time. Brett plays in a Petroleum Hockey League, and the boys play and referee in the Springbank and Recreational Hockey Associations. Besides helping coach his son's teams, Brett and the family regularly attend NHL games in Edmonton and Calgary.
Brett has been involved with the Pro-Am Tournament as a player and the Captain of the "Prime Suspects" team since the first Calgary tournament in 2011. His teams have participated in all of the tournaments in Calgary, plus a tournament each in Edmonton and Vancouver. It was announced after the 2018 Calgary event that the Prime Suspects have raised $1 Million dollars over 8 Calgary tournaments, and he was proud to hand over the captain role to Jeff Foster for the 2019 tournament. He joined the organizing committee in the summer of 2011 and has been focused on helping with Tournament Relations.
---
RON EVANS
Ron grew up in the Edmonton area and moved to Calgary in 1991 with a young marketing and advertising company. After 9 years in the industry, he transitioned into the transportation industry for 5 years and has spent the last 21 years in private equity.
Having a strong passion for hockey and a desire to give back, Ron registered The Extraordinaires 12 years ago in The Gordie Howe C.A.R.E.S. ProAm and welcomed the invitation to join the ProAm Committee 7 years ago.
Ron is married and has 2 adult children.
---
JEFF FOSTER
Jeff was born in Kamloops, BC and moved to Beaverlodge, Alberta at a young age where he grew up. Jeff moved to Calgary in 2001 with Bonnett's Energy Corp and is currently their VP of Sales and Marketing.
Being involved in Calgary's vibrant Oil and Gas industry has allowed Jeff to meet lots of great people and he has been a big part of the "Oilpatch Hockey Community" in Calgary with team sponsorship and the annual Oilympics Hockey Tournament along with other leagues.
Jeff's Mom Marilynne was diagnosed with Alzheimer's in her mid 60's and passed away in November of 2014 so this tournament is a cause that is extremely close to his heart.
After a few years of supporting the Gordie Howe Jeff joined the Prime Suspects as a player with Brett Chorney and this year will be his first as captain and has enjoyed playing with his cousin Jesse and nephew Zach on the Prime Suspects. Jeff has relished the opportunity to meet so many wonderful people working together for such a worthwhile cause.
This is Jeff's fourth year on the committee and has brought his network and business acumen to this talented group of people.
In his spare time Jeff enjoys playing golf, spending time with family and travelling.
---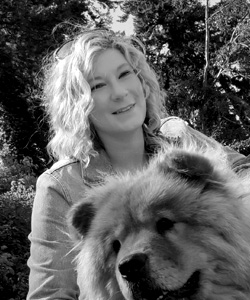 DARMIDY GOODINE
Darmidy was born and raised in rural Alberta, spending every spare minute at the rink. She was tossed into goal one game when she was 10, and the rest is history. Darmidy has made life-long friends and connections through hockey, and strongly believes everyone deserves the opportunity to participate. For this reason, she is excited to help the Gordie Howe Pro Am support its goal of an inclusive and diverse tournament and grow the event with a focus on diversity.
As with many families in Alberta, dementia has had a devastating impact on her family, and she supports the tournament in honor of her grandma Marion who is living with the disease, and her grandpa John who selflessly acted as her caregiver for as long as he was physically able. Funding for research is important but caring for the caregivers can also make such a huge impact on families, and she is proud to support an organization dedicated to supporting the people dementia leaves behind.
When she's not working and playing hockey, you can find Darmidy practising photography, learning about wine, or planning her next travel adventure.
---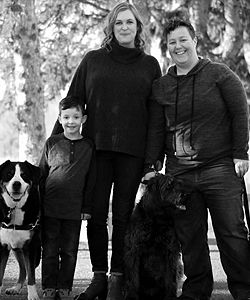 CRYSTAL MACKEY
Crystal grew up in Invermere, BC and has lived in Calgary for about 20 years. At 8 years old, she started playing hockey and has not stopped since. In 2012 she broke her neck and back and the Doctor told her she would not play again. Her response was "watch me" and she returned to the sport 6 months later. Crystal is heavily involved in female hockey in Calgary. Since her injury she has put together over 9 beginner woman's hockey teams in Calgary promoting women in the sport, while still playing competitively.
This is Crystal's first year on the committee. This cause is close to Crystal's heart as she watched her mom care for her grandma with dementia. Through her mom, she witnessed how there was little to help for caregivers like her mom to manage and cope with the stresses of being the main caregiver. The disease took away a beautiful soul far too early.
---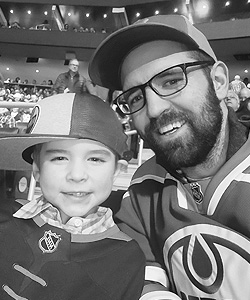 JOSH MARLATT
Josh Marlatt grew up in rural Alberta before moving to Calgary to attend the University. He now works as a Facilities and Pipeline Engineer for NuVista Energy. Josh has played hockey all his life, and has managed recreational hockey teams, as well as the ConocoPhillips and Cenovus hockey leagues from 2016 to 2018.
In 2022, Josh participated in the Pro-Am tournament for the first time as the captain of the NuVista Energy team. Being able to be involved with the Gordie Howe CARES Foundation is important to Josh as his extended family has been impacted by both Alzheimer's and dementia. Josh is honored to join the committee for the 2023 tournament and looks forward to continuing to contribute as both a team captain and committee member. He hopes he can help other families in similar situations through his involvement with the committee and tournament.
In his spare time Josh is either at the rink playing hockey, or off on some sort of adventure with his wife and their three young children.
---
NICK MOHN
Nick is a born and raised Calgarian, with a passion for hockey. Having grown up playing for the Calgary Buffaloes Hockey Association (CBHA), Nick went on to play Junior hockey in both Alberta and British Columbia. He now continues his passion for hockey by giving back to the hockey community. Nick is currently in his tenth year of coaching and is the head coach for the CBHA Bantam AAA Bisons.
In 2014, Nick graduated from Mount Royal University with a Bachelor of Computer Information Systems, and a Minor in Business. He has spent the last four and half years working with Nutrien (formerly Agrium), with roles in IT Sales & Distribution, Rail Fleet & Maintenance and Integrated Business Planning.
Outside of the rink and office, Nick enjoys spending his time fly fishing, camping and golfing.
Nick has participated in the Pro-Am Tournament for two years and is looking forward to continuing his involvement again this year. It is a fantastic opportunity joining the committee this year and he looks forward to contributing to this great cause.
---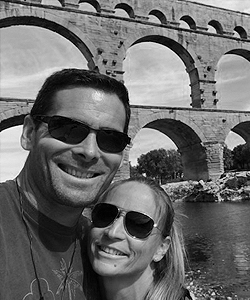 BIL TILLAPAUGH
Bill is a Calgary business owner that operates a company in the Home Building, Industrial and Commercial industry.
Bill is a strong advocate of giving time and funds to worthwhile charities, foundations, organizations and sports teams. Over the years Bill has been a consistent volunteer with the Calgary Region and Provincial Home Builders Association and has served on the Executive Board as well as various committees and continues as the Chair of the Calgary Homes Builders Fairmont event. Bill was an active hockey coach in the St. Albert Minor Hockey Association and the Chestermere Minor Hockey Association once his playing days were over.
Bill has been an active participant in the Pro-Am tournament both as a Captain and a team member and he is excited to be given the opportunity to be a part of the Tournament Committee to bring new ideas and continue to develop the Pro-Am into a must attend event for many years to come.
---
LESLIE GALLACHER
Power Play Event Consulting Inc., Event Director
Leslie has been producing events for over 20 years in both Canada and the United States with a heavy emphasis on sporting events.
Leslie's passion for producing events has led her to produce numerous high profile events to include the Road to the Roar (pre-trials for curling) for the Sochi Olympics, the NHL Alumni Man of the Year awards honouring Mario Lemieux and Mats Sundin, and the 2010 Olympic Torch Relay for the Vancouver Olympics.
When Leslie is not working, she enjoys bikram yoga, working on her golf game, beating her husband at tennis and a good glass of chardonnay.
Leslie was named to Calgary's Top 40 under 40 class of 2001.
This is Leslie's 10th year producing this great charity initiative.
---
TIM GARBUTT
Linx Marketing, Hockey Operations
2023 will mark Tim's tenth year with the Gordie Howe C.A.R.E.S. Pro-Am Tournament. Tim has worked in the Sports Marketing industry for the past 20 years producing and managing many high profile events. Tim was the General Manager of the 2012 World Junior Hockey Championship in Edmonton/Calgary.
Along with his wife Darcy, Tim has two children and resides in Edmonton.